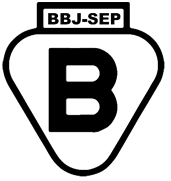 The B-BBJ mark is a registered by SEP-BBJ certification Mark for electrical products. It confirms that the products marked with it meet the requirements of the relevant Polish (PN), European (EN) and/or IEC standards, mainly related to safety, and therefore are safe and do not pose a threat to the people and the environment. Certification of compliance according to the B-BBJ program is a certification of type 5, covering testing and assessment of the product, pre-license inspection, as well as annual surveillance at the place of production and manufactured products collected from the producer and/or from the market.
The certificate is issued for 5* years.
*The validity of the certificate ceases automatically when one of the normative documents constituting the basis of the assessment ceases to be recognizing by the European Commission to be harmonized with one of the directives concerning a given product.
How to submit a product for certification
Step 1: email inquiries to bbj@bbj.pl with attachments:
product catalogue data sheets
assembly, operation and maintenance instructions – if required
list of elements and components used in the product
copies of certificates, confirming compliance with the relevant subject standard, for components used in the product
picture of the product*Note: please send certificates, not CE declaration of conformity
Step 2: filling in the application-order* and supplement the documentation with the following attachments:
completed the certificate/license holder questionnaire*
completed the manufacturer questionnaire** for all listed in the application-order production places
completed and legally validated form of Declaration of Identity* or Identification Statement*

Note: If the application-order is accompanied by a test report, please Declaration of Identity; in case if the application-order concerns the modification of your certificate / license, please complete Identification Statement.

completed manufacture's registered trademark form* (in case of cables the drawing of the distinguishing thread)
other documents not listed above, if applicable

*to be download from the website
Step 3: delivery of samples selected for testing
Step 4: acceptance of the offer containing costs and realization time